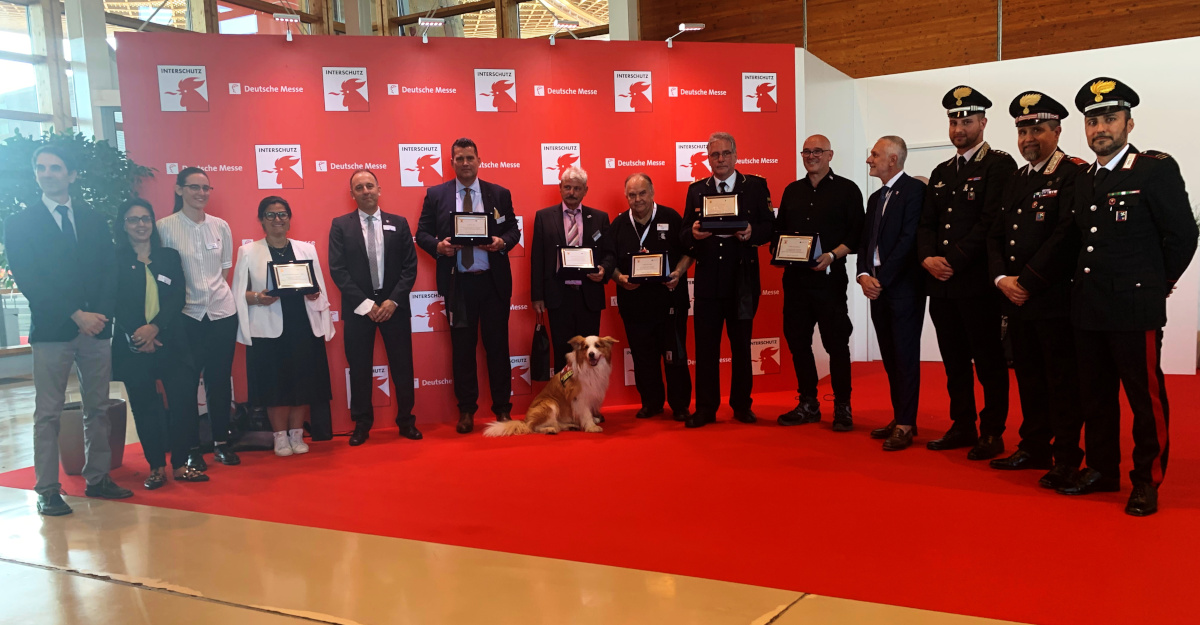 Special thanks to INTERSCHUTZ for 10 years of partnership with REAS
During the Italian Aperitif, the final moment of the Italian Partner Day on Wednesday 22 June, REAS and Centro Fiera Montichiari wanted to thank the partners of INTERSCHUTZ and Fiera di Hannover with a plaque commemorating these ten years of collaboration.
The awards went to Dirk Aschenbrenner, president of the German Fire Protection Association vfdb, Karl-Heinz Banse, president of the German fire brigade DFV, Heinz-Peter Brandenberg and Matthias Ludwig, leading members of the vfdb, and Bernd Heinold, head of INTERSCHUTZ of Deutsche Messe, as well as Andreas Züge, general manager of Hannover Fairs International GmbH, the Italian branch of Deutsche Messe and, collectively, to all the staff of Hannover Fairs International GmbH who, for ten years, have been giving an essential contribution to the organization of REAS.
"It is a sign of recognition of extraordinary people with whom we have built a solid working bond but also of friendship", explains Ezio Zorzi, director of Centro Fiera Montichiari."The collaboration with INTERSCHUTZ is fundamental for REAS and these days of presence at the fair also served to make our event known and to increase the expectation for the edition scheduled for 7 to 9 October 2022".
The partnership between Centro Fiera Montichiari and Hannover Fairs International GmbH, born in 2013, has increased the international appeal of the REAS brand, attracting delegations of foreign buyers and exhibiting companies to the Monteclarense event, already a leader in Italy for the emergency sector.