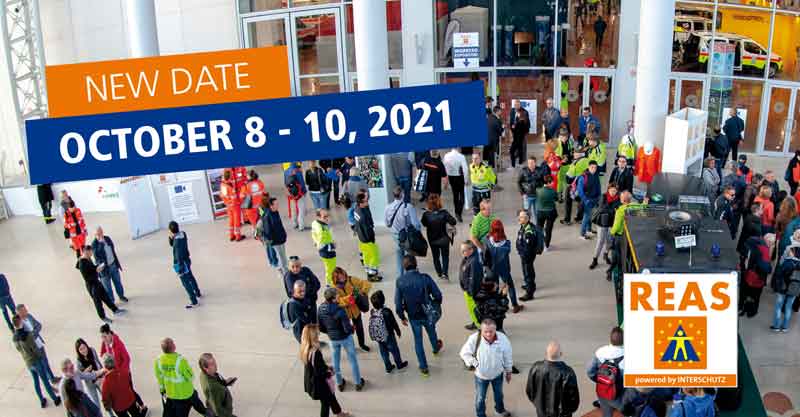 REAS: 2020 edition cancelled and new event scheduled from October 8th to 10th 2021
Given the current uncertainty caused by Covid-19, the twentieth edition of REAS International Exhibition for Rescue, Fire Fighting, Disaster Relief and Security, scheduled to take place from October 2nd to 4th, has been cancelled and will now take place from October 8th to 10th  2021.
Centro Fiera Montichiari, organiser of the exhibition in partnership with Deutsche Messe – Hannover Fairs International GmbH, reached this decision taking into account the effects of Covid-19 and considering that operators and volunteers in the national health and civil protection systems have made extraordinary efforts to contain the pandemic and manage the effects of the emergency in the interests of the community.
The post-pandemic phase also involves front-line action by exhibitors and visitors to REAS who are playing an active part in emergency management protocols. Therefore the postponement of REAS 2020 is the result of in-depth evaluation which is highly considerate and respectful of the work carried out by health system operators, volunteers and companies in the sector.  Already working towards the 2021 edition, REAS confirms its closeness to and support of the entire emergency sector.
On 2nd, 3rd and 4th October 2020 conferences and interactive training activities have been scheduled via webinars and smart fairs.
REAS believes the safety and health of exhibitors,  visitors, partners, employees and collaborators to be of the utmost priority. Centro Fiera Montichiari, as a member of AEFI (the Association of Italian Exhibitors and Trade fairs), adopts all protocols for the prevention of the spread of the Covid-19 virus at events and trade fairs, as well as the measures that competent authorities indicate in order to guarantee the respect for health and safety of visitors and exhibitors.
The REAS staff is already at work to offer exhibitors, operators and volunteers a 2021 edition that will provide a concrete contribution to the relaunching of our sector.
REAS International Exhibition for Rescue, Fire Fighting, Disaster Relief and Security will take place from October 8th to 10th at Centro Fiera di Montichiari (BS).