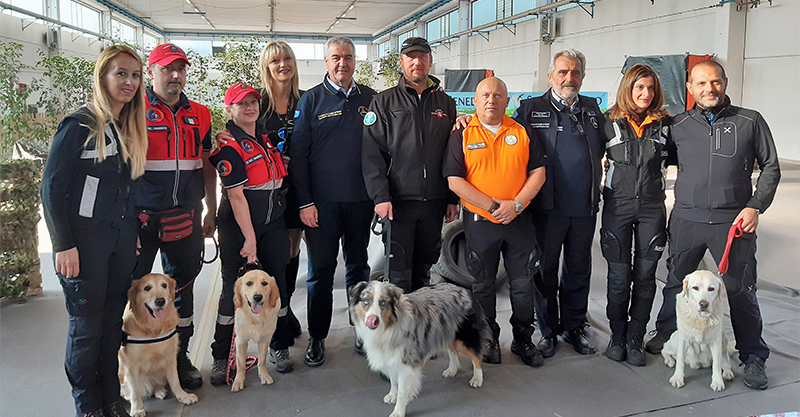 Training and solidarity: great success for the fourth edition of the Trophy Canine Unit Trophy
Training and solidarity: great success for the fourth edition of the Trophy Canine Unit Trophy
Excellent feedback for the Trofeo Canine Rescue Unit Trophy which enriched the REAS International Emergency Exhibition days, crossing the finish line of the fourth edition.
With the 2019 edition, the Trophy has set itself a great social goal, that of contributing to the rebirth of the city of Accumuli, seriously affected by the earthquake that involved Central Italy in the summer of 2016.
The top 5 finishers in the mixed category, in fact, won a training weekend, right in the Rieti municipality, followed by an important technical staff.
Here is the ranking:
– Sandro Paganessi (Thaila)
– Anna Scardova (Tommy)
– Erika Bonzanni (Iama)
– Michele Paladin (Hornet)
– Daria Guerini (Charming Aphrodite)
The visit by the architect Corrado Volpetti, Accumuli's municipal councilor, was significant. He reiterated how proud the city is to host these two days of training and celebration, scheduled for June 2020.
"This year more anchors than the other years we have engaged in this Trophy precisely because, on 6 and 7 June 2020, in the city of Accumuli there will be a post Trophy edition to support the populations", declared Marica Montanari, on behalf of the Schiavi Tailoring, official sponsor of the event. "We believe in the rebirth of Accumuli and for this reason we want to make known the new activities that are growing."
The testimony of Claudio Cristalli, managing director of Nutrix Più, was also touching and significant, a company that suffered serious damage during the 2016 earthquake.
It was a special honor for the organizers of the Trophy the presence of the Head of the Civil Protection Department Angelo Borrelli who, on the occasion of his speech, explained the importance of canine activities and the particular role played by rescue dogs in the system of Civil protection and emergency management. Finally, the video message of Colonel Di Caprio, known as "Captain Last", was very welcome and he wanted to emphasize the importance of the work of the voluntary associations that lend themselves to save lives.
The real protagonists, however, are the participants of the Trophy who, together with their wonderful life companions, came into play facing a demanding competition, again this year judged by the International judge IRO Mirka Nekack, who reached the REAS from Slovenia, present with great joy and pride since the first edition.
All canine rescue units, regardless of the color of their uniform, are used daily throughout the world to support human activities with the common goal of saving lives. As evidence that in the emergency, even the 4-legged "Angeli del Soccorso" operate relentlessly in a real race against time to "sniff" the presence of survivors.
A special thanks from the Organizers goes to the numerous companies that supported the Trophy and its mission: Sartoria Schiavi, Nutrix Più, San Benedetto, Canibo.it, Trainer, Forza 10, Almo Nature, Scalibor, MSD Animal Health.