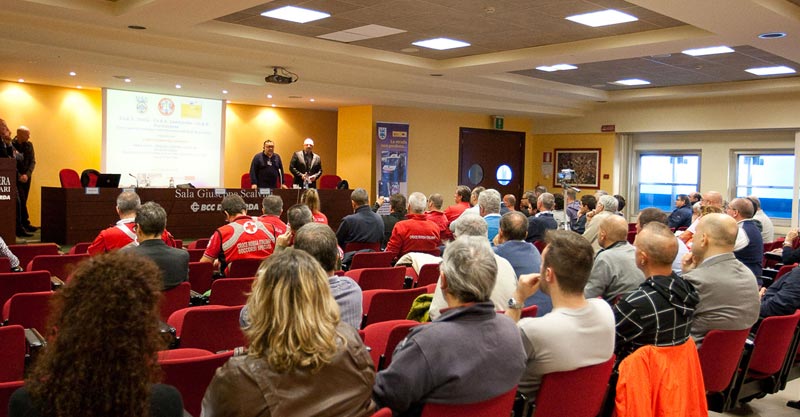 PRE-HOSPITAL APPROACH TO THE CRIME SCENE: A CO.E.S. ITALY
[vc_row][vc_column][vc_custom_heading text="PRE-HOSPITAL APPROACH TO THE CRIME SCENE: A CO.E.S. ITALY" font_container="tag:h1|font_size:30px|text_align:left|color:#df872d" use_theme_fonts="yes" css_animation="fadeInUp"][vc_empty_space height="30px"][vc_zigzag color="custom" align="left" el_width="10″ custom_color="#df872d"][vc_empty_space height="60px"][vc_column_text]
As every year, thanks to an extensive program of seminars, workshops, exercises and operational demonstrations, the visit to REAS International Emergency Exhibition, scheduled from 4 to 6 October at the Centro Fiera di Montichiari, will be an opportunity to increase your own technical background. This occurs above all through participation in the training moments that REAS is able to propose through collaboration with all the actors involved in emergency management.
Among the initiatives already confirmed, we recall the educational appointments proposed by the Co.E.S. Italia (National Association of Health Emergency Drivers), starting from the conference entitled "Pre-hospital approach to the crime scene. Are we ready?" Scheduled for Saturday, October 5th, at 2:00 pm.
The objective of the conference is to provide rescuers with the fundamental elements to intervene in a crime scene avoiding any alteration during the maneuvers required by the operational rescue protocols. The main legal aspects related to the conservation chain of the traces identified will be discussed, with the aim of allowing participants to acquire some specific skills for a correct rescue intervention.
The conference will be moderated by the president of Co.E.S. Italy Moreno Montanari. Speakers include Daniele Savigni, rescuer driver Co.E.S. Emilia Romagna, with the nurse Marco Pellacani, president of the Scientific Association for Anti-Crime (ASAC), will illustrate the ways in which the 118 teams must comply in the approach phase and in the health management of the scene. The consolidated collaboration with ASAPS and its spokesperson, superior inspector Gianluca Fazzolari, Dir. II Sector Section, is confirmed below. La Spezia Traffic Police and National Councilor ASAPS, which will deal with aspects related to medical aid and the unconscious pollution of the crime scene. Furthermore, Dr. Margherita Carlini, a forensic psychologist and criminologist, will discuss the subject of the crime scene inspection and preservation in intervention.
[/vc_column_text][/vc_column][/vc_row][vc_row][vc_column][vc_column_text]
[/vc_column_text][/vc_column][/vc_row]