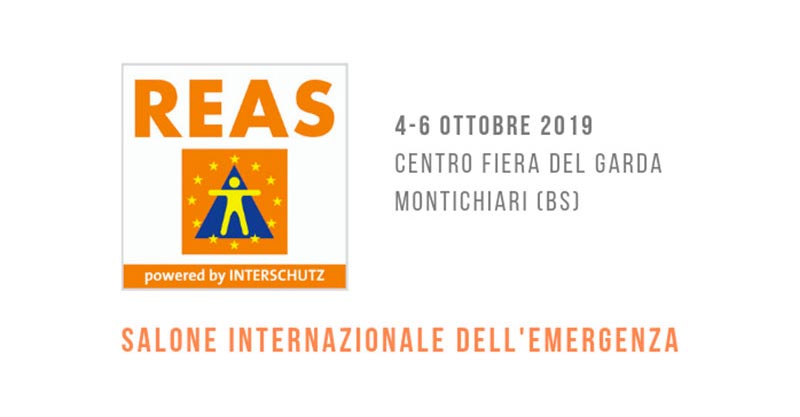 POST-EMERGENCY MANAGEMENT BETWEEN PROFESSIONALISM AND VOLUNTEERING: AN ANCI MEETING IN REAS
POST-EMERGENCY MANAGEMENT BETWEEN PROFESSIONALISM AND VOLUNTEERING: AN ANCI MEETING IN REAS
REAS confirms to be a valuable opportunity to explore the most topical issues for the emergency sector. Friday, October 4, starting from 2.00 pm, on the opening day of the fair, ANCI (National Association of Italian Municipalities) proposes a conference entitled "The management of the post-emergency between professionalism and volunteering".
2.00 pm – Opening of works and greetings from the authorities
FACILITATORS:
– Antonio Ragonesi – Head of International Relations, Security, Legality and Civil Rights, Territory and Infrastructures, Environment and Civil Protection – Anci Nazionale
–Agostino Miozzo – Director General of the Promotion and Integration Office of the National Service – Civil Protection Department
3.00 pm – Introductory remarks
REGIONE LOMBARDIA:
Massimo Noris – Manager of civil protection planning and volunteering structure.
MUNICIPALITY OF MONZA:
Mario Stevanin – Responsible for civil protection in the municipality of Monza

3.30 pm "The role of the" volunteer professional "in managing emergencies in the German experience"

– DEUTSCHER FEUERWEHR VERBAND (German Fire Brigade Association) Hartmut Ziebs – President

– VFBD Dirk Aschenbrenner (German Association for Fire Protection) – President
4.00 pm – Detection of damage to structures, infrastructure and territory
ENGINEER ORDER
Luca Giaccari – Self-employed – Coordinator of the Civil Protection Commission at the Order of Engineers of the Province of Brescia
GEOLOGIST ORDER
Sira Savoldi – Self-employed – Reliefs of usability in the earthquake-hit areas of the Apennines for the Consulta Lombarda of Architects' orders
ORDINE GEOLOGI
Egidio De Maron – Freelancer – Coordinator of the civil protection commission of the O.G.Lombardia
4.30 pm – Human impact, psychological contribution and assistance to the population
PSYCHOLOGISTS FOR PEOPLES
– Raffaella Paladini – President of the Association of Psychologists for Peoples ER
SOCIAL ASSISTANTS
– Rossana Arosio – President of the Peripheral Operating Organization of Lombardy A.S. PRO.C.)
– Marco Zanolli – Order of social assistants of the Lombardy region – A.S.PRO.C.
– Enrico Bianchini – A.S.PRO.C.
5.00 pm – Emergency governance in the municipal structure
ANCI LOMBARDIA Antonio Schiripo – Referent of ANCI Lombardy Civil Protection
5.30 pm – Comparison and Discussion 
18.00 pm Conclusions
 Angelo Borrelli – Head of the Civil Protection Department