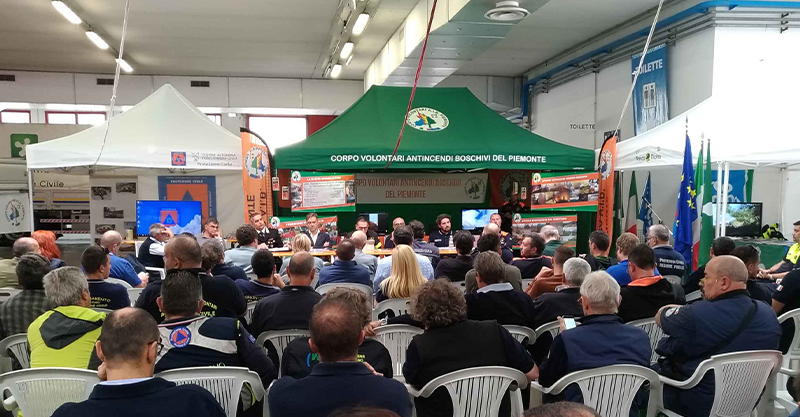 Forest fire fighting: A REAS national round table
[vc_row][vc_column][vc_custom_heading text="Forest fire fighting: A REAS national round table " font_container="tag:h1|font_size:30px|text_align:left|color:#df872d" use_theme_fonts="yes" css_animation="fadeInUp"][vc_empty_space height="30px"][vc_zigzag color="custom" align="left" el_width="10″ custom_color="#df872d"][vc_empty_space height="60px"][vc_column_text]
At REAS 2019, the traditional meeting dedicated to forest firefighting, now in its third edition, is confirmed. In the Round Table, scheduled for Saturday, October 5 starting at 2 pm, the representatives of the Institutions, Bodies and Volunteers working in this sector will discuss both a "hot" analysis of the AIB 2019 winter and summer campaign, and on the measures and proposals prepared by the AIB interinstitutional technical committee to improve prevention and active fight against fires.
Presidents of the DPC, CNVVF, inter-institutional AIB, ANCI, Carabinieri forestry representatives and a representative figure, at national level, of the AIB Volunteer will preside over the work of the Round Table.
The works will give more space to the world of AIB volunteering and local operators in the sector. The representatives of the AIB Volunteers coming from the various regions will pose questions and questions to the speakers table, concerning assessments on the AIB campaign of 2019 and on the measures adopted or still to be adopted to generally improve the national AIB system.
The objective of the initiative is to encourage feedback from the world of volunteering and local operators, about the effects of the work done at national and regional level by the institutions and the CNVVF, to make the AIB system more effective and efficient. Important will be the proposals, suggestions and ideas that will be formulated to institutional representatives, on which to continue working.
The moderators of the Round Table will be Dr. Massimo Galardi, AIB official of the Liguria Region and Franco Pasargiklian, director of the monthly magazine "The Italian Civil Protection".
[/vc_column_text][/vc_column][/vc_row][vc_row][vc_column][vc_column_text]
[/vc_column_text][/vc_column][/vc_row]